What is a Green Amendment?
Green Amendments are self executing provisions added to the bill of rights section of a constitution that recognize and protect the rights of all people. regardless of race, ethnicity, religion or income, including future generations, to pure water, clean air, a stable climate, and healthy environments.
---
What's Happening in Washington?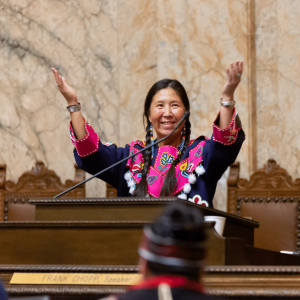 Green Amendments For The Generations has been working closely with the National Caucus of Environmental Legislators (NCEL). GAFTG Founder Maya van Rossum presented at NCEL's 2019 annual conference to over 150 legislators, educating them on the value and power of a Green Amendment. This presentation inspired Representative Debra Lekanoff (40th LD) to consider such a provision for the people of Washington and begin working with GAFTG in close partnership to launch a WA Green Amendment Movement.
On February 9, 2021 Representative Lekanoff introduced HJR 4205, an amendment to the state constitution, enshrining the rights of all Washingtonians to clean water and air, a stable climate and healthy environment. Sponsors include Representatives Simmons, Ryu, Pollet, Goodman, Ramel, Peterson, Sells, Senn, Dolan, Ormsby, Callan, Harris-Talley, and Riccelli. The proposed amendment has been referred to the House Environment & Energy Committee. Read the full press release here.
See the list of WA Representatives Sponsoring the Green Amendment.
View Fact Sheets, FAQs, Webinars, Education Guides and more on our resources page.